Academic Year Meeting Space
Public areas in Housing's residence halls and undergraduate apartments are available to UC Santa Barbara students and campus departments during the academic year. These spaces are part of the living environment of student residents and exist to enhance the learning and living activities of residents. All use of these areas should reflect and reinforce this mission. When placing your room reservation, please review the rules and regulations in the reservation form.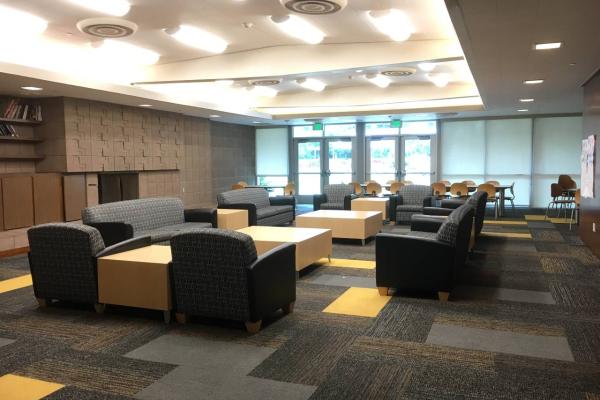 Event Fees
Certain events in the residence halls and/or undergraduate apartments are not subject to rental fees. The below usages are not subject to fees, but use is subject to availability and approval by the Lead Staff/Administrative Services Coordinator of the building and/or Conference & Hospitality Services. All events not meeting these criteria will have fees associated with them.
Events for which there are no fees
Residents of the hall/complex putting on events specifically and primarily for the residents of their hall/complex, which are open to and benefit all residents of the hall/complex
Housing programs and Housing departmental meetings
CLAS activities
UCSB faculty or campus departments putting on programs specifically and primarily for the residents of the hall/complex, which are open to and benefit all residents of the hall/complex
Rates
| | | |
| --- | --- | --- |
| Location | First 4 Hours | Additional Hours |
| Santa Catalina Linda Vista Room | $150 | $30/hour |
| All other facilities and spaces | $50 | $10/hour |
Reservation Rules and Timelines
Reservations are made on a first come, first served basis.
Reservation requests must be submitted at least five business days, but not more than nine months, in advance.
No reservations can be made during study week and finals week.
The main lounge, rec room, and classroom of a particular building cannot be booked at the same time. At least one of these spaces must be free for resident drop-in use.
No private parties (approved Family Student Housing resident spaces excepted)
During the academic year, these spaces are only available for use by UCSB campus departments and residents of the building/complex.

Exception: With approval, and in coordination with Housing, facilities may be used by the County as vote centers for general, primary, and special elections